Essential Tool Belts and Pouches for Electricians
By:admin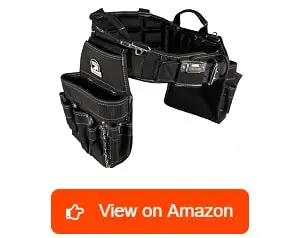 Electricians rely on their tools and equipment to get the job done right. In the fast-paced world of electrical work, every moment counts, which is why having the right tools conveniently accessible is essential. This is where tool belts and pouches come into the picture. With the help of tool belt pouches, electricians can keep their tools organized and easily accessible, allowing them to focus on their work and complete tasks efficiently.

Electrician tool belts and pouches come in many variations, but their primary purpose is the same: to provide electricians with a convenient way to carry their tools while allowing them to work hands-free. The design of these tool belts and pouches is typically rugged, sturdy, and long-lasting, making them perfect for daily use. They come equipped with multiple pockets and loops that can hold a variety of tools such as screwdrivers, pliers, wire cutters, and more, all within easy reach.

While selecting a tool belt or pouch, it's essential to keep your requirements in mind. Carrying too many or too few tools can disrupt your workflow. A tool belt that is too bulky or one that doesn't fit correctly can create discomfort and slow you down. Therefore, finding the ideal tool belt or pouch with good functionality is essential for your work.

Tool Belt Pouches

If you're looking for a compact tool storage solution, a tool belt pouch may be an excellent option for you. Tool belt pouches are smaller than full-sized tool belts, but they are still efficient and effective. This type of pouch can clip onto any belt, making it easy to use with existing clothing. It comes with multiple pockets that allow for quick access to tools without compromising their safety.

Tool belt pouches are perfect for electricians who move around frequently, as their size allows for more freedom of movement. They are incredibly portable, and you can easily transfer them to a new location.

When choosing a tool belt pouch, ensure the pockets and loops are of varying sizes to allow you to accommodate different tool sizes. The pouch should also have a sturdy and reliable mechanism that closes the pocket securely to keep tools safe and prevent them from slipping out.

Conclusion

Electricians must have the right tools at their fingertips so they can complete a job efficiently and accurately. Tool belts and pouches are essential tools for any electrician since they provide a convenient way to carry tools, allowing for improved workflow and efficiency.

Tool belt pouches, though small, are efficient and effective as they usually have multiple pockets that allow quick access to tools. Electricians who move around frequently can benefit from using tool belt pouches. When selecting a tool belt pouch, ensure it has sturdy pockets and pockets of varying sizes.

In conclusion, electricians should always consider investing in a reliable, high-quality tool belt or pouch to make their work more manageable and efficient.